Authors: Jérôme Cau, MD, Jean Baptiste Ricco, MD, Olivier Page, MD, Gilles Régnault de la Mothe, MD, Christophe Marchand, MD, Alexandre Valagier, MD, La Poitiers, France
The article is intended for medical audiences. The full article can be found in one of the most prestigious vascular surgery journals: read the full article.
Objective
The purpose of this article is to report on vascular surgery achievements related to this laparoscopic technique and to prove that it is a safe and effective option for treating recurrent hypertension and renal insufficiency. This procedure has been successfully performed in patients whose hypertension was refractory to medical management and who had failed PTRA due to restenosis of the renal artery.
Methods
Our surgeons have had an extensive experience with total laparoscopic repair of renal artery restenosis following PTRA. From February 2005 to October 2009, we performed six total laparoscopic aortorenal bypasses in these patients with recurrent hypertension and renal insufficiency.
Results
The mean operative time was 246 minutes, while the warm ischemic time was 28 minutes. All patients received prosthetic graft interposition with estimated surgical blood loss of 980 ml; no conversion or deaths occurred during hospital stay.
The postoperative serum creatinine levels of our patients rose but returned to baseline before discharge; median length of postoperative hospital stay at 6 days; patency was confirmed by color Doppler ultrasound scan examination and computed tomography (CT). After surgery, the hypertension improved although the renal insufficiency remained unchanged.
Conclusion
Total laparoscopic repair is thus feasible and safe in this setting but requires extensive technical experience in total laparoscopy for successful outcomes. Our team has more than two decades of expertise in minimally invasive surgery, particularly in advanced laparoscopy procedures such as aortic reconstruction on thoracic or abdominal aneurysms, as well as vascular accesses for hemodialysis; all these experiences are essential elements of success when performing total laparoscopic repairs for renal artery restenosis after PTRA.
We use state-of-the-art that allows us to operate with greater precision and dexterity than ever before, enhancing clinical outcome by minimizing infection risk, reducing operation time and improving patient comfort throughout the process. Our team also focuses on optimizing preoperative care and continuously updating our techniques according to recent evidence-based guidelines so that all our patients receive the best possible treatment from diagnosis through recovery.
Materials and methods
Total laparoscopic bypass (TLB) is one such surgical option used to treat Renal Artery Restenosis (RAR). Unlike more traditional open surgery which involves making an incision in the chest or abdomen and then inserting a tube-like graft into the renal artery, TLB requires only two small incisions in the abdomen through which instruments are inserted directly into the renal artery. This helps preserve healthy surrounding tissue and reduces postoperative pain compared with open surgery. Additionally, TLB procedures typically take less time than open surgery—making them less stressful for patients and their families – and result in shorter hospital stays.
Between February 2005 and October 2007, 6 patients (4 men and 2 women) underwent total laparoscopic bypass for RAR after PTRA at our department. All 6 had preoperative diagnosis of hypertension associated with at least one episode of acute pulmonary edema in 4 cases; 3 had one functioning kidney; 2 had severe eGFR <30 mL/min/1.73 m2); 4 moderate eGFR (30 to 60 mL/min/m2). During that same period of time 92 total laparoscopic aortic bypasses and 66 PTRAs were also performed at our department. The success rate of TLB surgery varies depending on several factors including patient age, severity of RAR symptoms before treatment, extent of vessel damage prior to intervention etc.. In general however studies have shown that total laparoscopic bypass can improve outcomes compared to conventional open surgery techniques for treating RAR. As such it should be considered as an important therapeutic option for those looking for a minimally invasive solution when faced with this condition.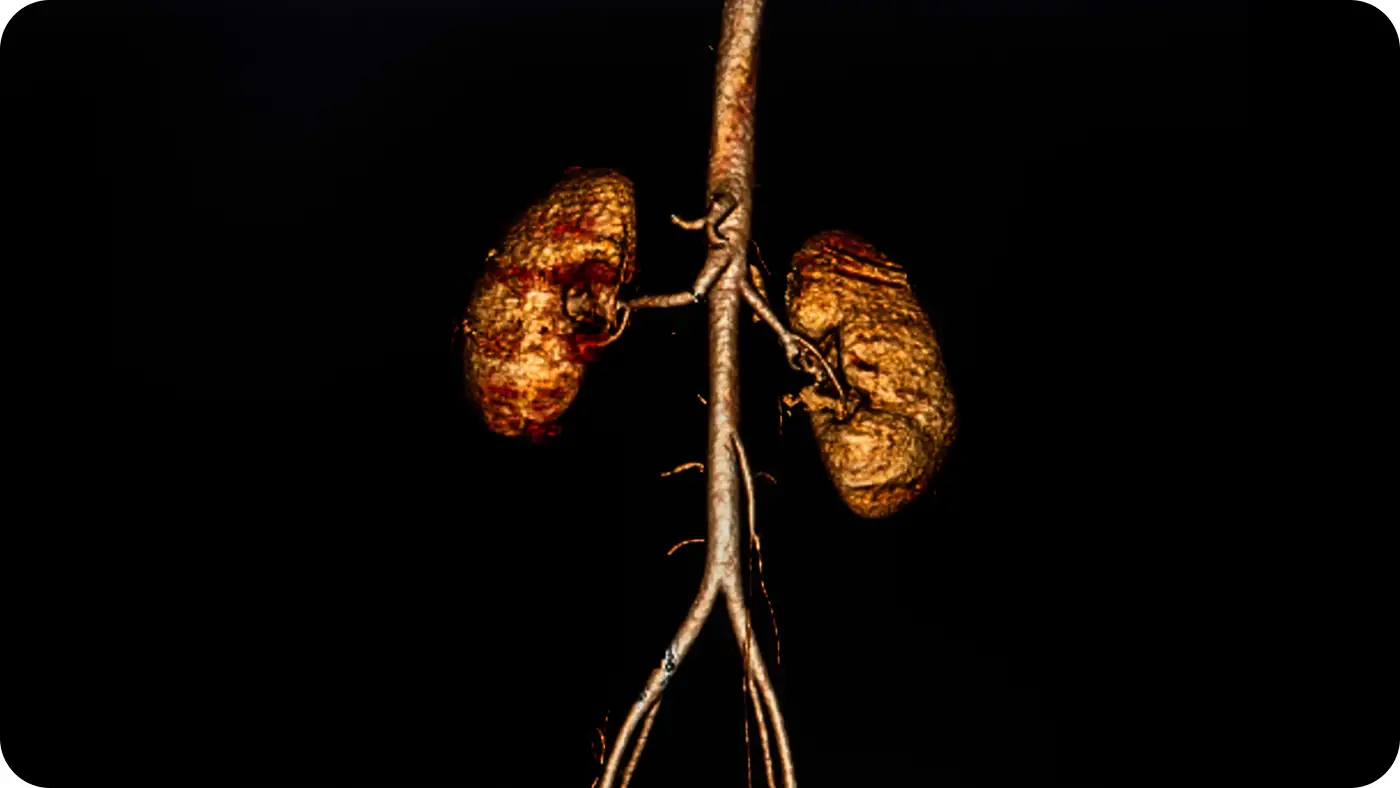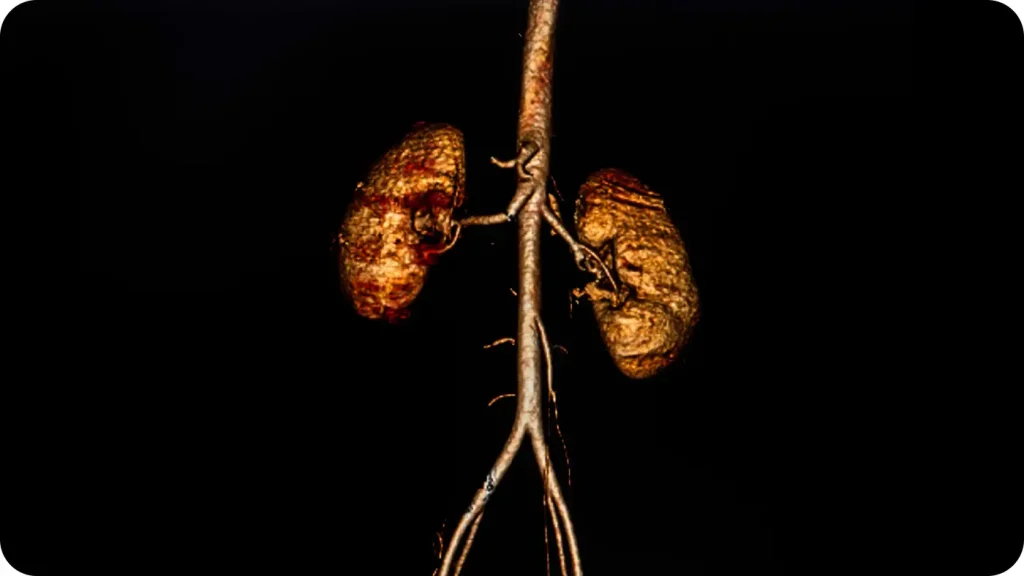 Results
Bypass surgery showed remarkable postoperative results, with no in-hospital deaths occurring. Serum creatinine levels increased during the procedure but returned to baseline upon discharge. Of noteworthy improvement was a decrease of 1 antihypertensive drug per patient from preop values at 6 months and 1 year following the bypass operation according to data analysis. Doppler ultrasound scans as well CT angiography confirmed this success without any hemodynamic or morphological issues raised one year later.
Discussion
Laparoscopic renal artery bypass is a challenging procedure which requires careful dissection of delicate vascular structures. Effective exposure of the right kidney necessitates using a retrocolic approach, while to avoid any postoperative problems in left cases, placement on the side of the aorta must be considered when forming anastomoses with other vessels. Precise mobilization and transposition are essential steps for successful outcomes involving this complex operation. However, despite these difficulties, the laparoscopic technique offers some advantages such as an enhanced field of vision and better control of the distal renal artery, allowing a more precise dissection and better conditions for the arterial anastomosis, comparable to that completed under binocular loupe magnification.
We have considerable experience with aortic laparoscopic surgery, making the transition to total laparoscopic renal artery bypass easier for our team. Nonetheless, there is an inherent challenge in achieving short warm-ischemia times during this complex procedure – especially if multiple bypasses were performed on a patient with only one functioning kidney. In this study specifically, we achieved successful clamps within 28 minutes. This was accomplished without employing robotic device assistance and is testament to the proficiency of our surgical approach.
Despite the technical demands of total laparoscopic renal bypass, good results can be achieved with sufficient training and experience in laparoscopic aortic surgery. However, adoption of this technique has been slow as few surgeons have pursued it due to its extensive learning curve – in 2008 only 1073 patients received Laparascopic Aortic Surgery. Of course such numbers also reflect that gaining access to train and identify suitable cases for such an operation is becoming increasingly difficult.
Final Conclusion
Total laparoscopic renal artery bypass is feasible. However, it remains technically demanding and previous experience in total laparoscopic aortic surgery is essential before embarking on this technique.